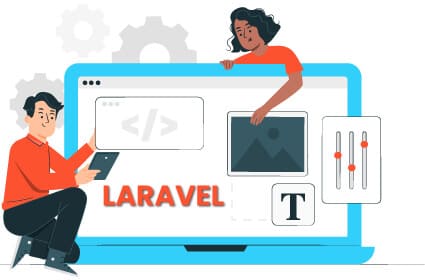 Code Calibre is an intensive Laravel Web Development Company. We help you to achieve what you desire through your business's website. With the support of our highly skilled and experienced developers, we specialize in helping our valued clients get the web or mobile application that helps them to attain their business goals and have a unique, memorable user experience. As a trusted Laravel Web Development Agency, we ensure your online presence stands out, providing tailored solutions for your specific needs.
Laravel is a classy and powerful PHP framework, which provides you the best website or mobile app in a simple and expressive way. At Code Calibre, we are well known for our Laravel Theme Customization and our state-of-the-art IT infrastructure along with skilled developers to help us along in this regard. We develop user-friendly and search engine friendly web/mobile app as per your exact business needs. Our dedication and proven record for customer satisfaction has led us to be known as the best Laravel Web Development company, delivering exceptional services as a Laravel Development Agency in India.
We offer a large variety of Laravel development services. Some of our significant offerings include:
We have developed an extensive client base in different business sectors. At Code Calibre, our skilled and experienced professionals are ready to serve business owners of the sectors like:

Retail

Banking

Entertainment

Travel & Transport


Real Estate

Games & Sports

Dating

Food
Diamond & Jewellery

Automotive

Education

Food and Hospitality

Medical & Allied Health Care

Beauty & Fashion
Technology


Marketing & Finance
Why should you choose Code Calibre for your Laravel Development needs?
At Code Calibre, we are your first choice when you decide to have a Laravel web, mobile, or eCommerce application. Here are a few reasons that back our claim to be your best partner for Laravel Development Services and make us the best affordable Laravel Development company in Delhi NCR: