OPENCART DEVELOPMENT
Amidst all the other e-commerce development services, OpenCart Development Company, Code Calibre, stands out for its expertise. OpenCart has become a very popular e-commerce solution that aids in creating a professional and functional online store development, which is safe and secure. Our OpenCart Website Development Services are user-friendly, attractive, reliable, and customizable as per the requirements and preference of the business. If you're looking for Affordable OpenCart Development Service, our team knows how to satiate your demands very well. At Code Calibre, we believe in constant upgrades, ensuring your online store is at the forefront of technology. Call us today to enhance your e-commerce experience.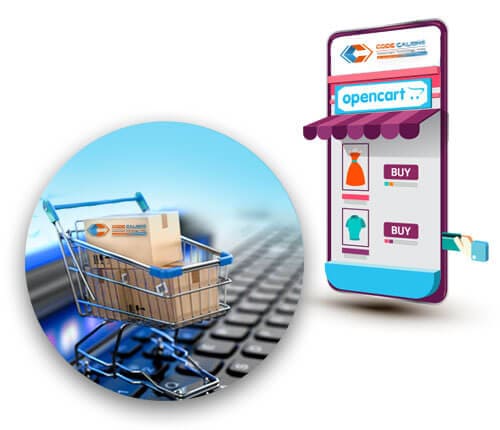 Come to Code Calibre, where our team of experts knows the right way to put your e-commerce store amongst the leaders of the industry. We are providing excellent OpenCart Development Services over many years, creating attractive, engaging, and functional e-commerce stores. With expertise in OpenCart web development, we specialize in Custom web development in OpenCart, helping businesses transform and succeed. We have already helped several businesses reach their goals of becoming industry leaders, and now it is your chance to transform your business. Experience our services and feel the difference yourself.
You might think that OpenCart isn't the most popular choice for your business, given that only 3% of all ecommerce websites use OpenCart. However, the platform is steadily growing. We believe that OpenCart offers tremendous potential for creating amazing business websites and staying ahead of the game. With our expert team, we specialize in services such as Woocommerce to OpenCart migration, Shopify to OpenCart migration, and Magento to OpenCart migration, making your transition seamless. OpenCart development is easy and highly adaptable. Try it once, and you will never regret the decision.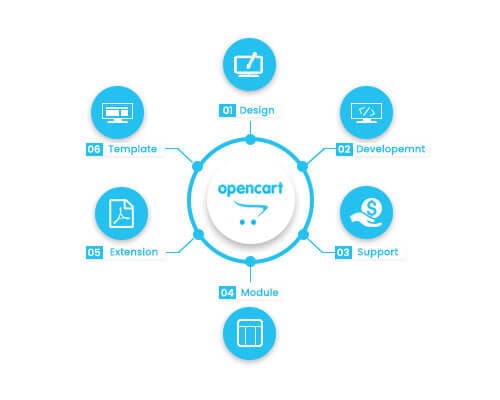 If You Still Feeling Confused On Why You Should Be Picking Up OpenCart Development For Your Website, Here Are Some Of The Reasons We Have:
OpenCart is a user-friendly e-commerce solution, and it is very easy and safe to install. OpenCart is highly responsive and supports all mobile tasks. E-commerce demands constant updates, and we specialize in customization in existing OpenCart eCommerce websites, ensuring your platform stays up-to-date. Our expertise extends to custom eCommerce development in OpenCart, tailoring solutions to your unique needs. Additionally, we excel in OpenCart extension development, enhancing your online store's functionality and user experience. OpenCart helps in cart maintenance even if it is left idle, providing a seamless shopping experience for your customers.
OpenCart is very easy to download, and you can install it very conveniently without any headache. Compared to other CMS platforms, it is very easy to understand and operate. Further, OpenCart is very cost-effective as it is written in PHP programming language. At our OpenCart development company, we specialize in various services including Opencart theme customization, Opencart marketplace development, and Opencart multivendor website development, ensuring your online store is tailored to your specific needs and preferences.
OpenCart is a highly functional e-commerce platform known for its usability and efficiency. It utilizes AJAX programming language, reducing store load times significantly. With OpenCart's intuitive interface, users don't need technical knowledge to manage their stores. At Code Calibre, we specialize in OpenCart multivendor website customization, ensuring tailored solutions for your business. Additionally, we excel in Opencart mobile app development and Opencart module development, providing comprehensive services to enhance your online store's functionality and user experience.
With OpenCart, you can enjoy complete control over your store without any third person's intervention. As it is easy to use, there is no need to learn any technicalities. Additionally, we specialize in Opencart custom page development, allowing you to tailor your store's pages according to your unique requirements and branding.