A Walk Through The Rich History of Code Calibre
Code Calibre is a professional Web Design, Web Development, and Digital Marketing company located in Delhi, NCR. We are a technology-driven organization stepping forward to take the next step towards evolving as one of the top IT companies in India.
We began with the aim to deliver high-quality work to our foreign & local clients in the IT field. From being a small company, we have transformed ourselves into a full-fledged IT company with a team of highly enthusiastic, diligent, competent, and creative experts.
Over the years, our way of working with full commitment and delivering the best has helped us meet our esteemed clients' anticipations. Code Calibre believes in teamwork. Working together helps us to keep the morale of everyone high and push each other to achieve new milestones every day.
We have thorough expertise in all three main departments of Information Technology, i.e. Web Design, Web Development, and Digital Marketing and we deploy separate departments for every service and dedicated team as well to handle each project based on the work involved.
Our teams are diligent and strive hard to finish the work in stipulated time to avoid any hassle. While working, we always adhere to our ethics and focus on building healthy relationships with the client.
Alongside this, we always focus on upgrading ourselves because IT is an ever-changing field, and every day, something new comes up. We keep the client in the loop and constantly communicate the suggestions and changes. Ensuring 100% client satisfaction always is our utmost priority. Most of the early projects we worked on helped us win long-term clients who still rely on Code Calibre. It all became achievable due to our hard-working nature and an excellent array of IT services.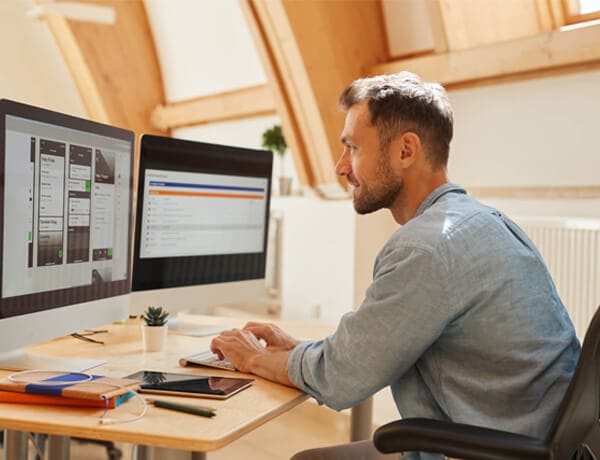 01
Our Path
We believe in rendering affordable solutions and providing our customers with high-quality work. We wish to stay connected with our clients for longer and become their go-to IT partner. We always follow a result-oriented approach and offer business-specific solutions tailor-made for perfection. We never suggest the same thing to everyone because we know every business has different requirements and goals.
Our way of delivering constant support even after project completion has helped us build strong relations with our clients. We work on your projects, keeping in mind that it's our project. With your support and our keen sense of dedication, we can achieve new heights. We have helped hundreds of businesses with sophisticated solutions to bring their business-related goals into reality. We are waiting to have you also on board.
02
Combination Of Creativity and Innovation
Code Calibre has a firm belief in continually evolving and keeping up with the latest trends. Our learning attitude helps us deliver excellent services to the clients in the future. Our creative minds are always on their toes to take up your project and follow an innovative approach to meet your expectations. We provide opportunities for businesses to drive innovation with our technological expertise to help them realise their dreams. We work with clients to create outstanding values and high-quality solutions.
Our Philosophy of mixing expertise with experience to bring out perfection has paved the path to success. Our strength lies in the expertise and capabilities of our skilled team that has worked tirelessly for years to make Code Calibre stand as one of the global IT web design and development companies.