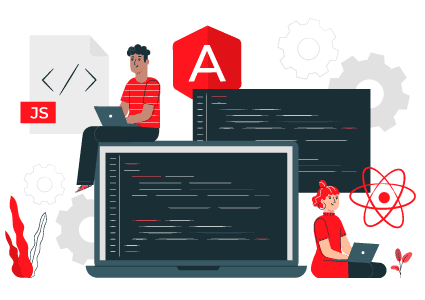 At Code Calibre, we stand as a top Angular development company, specializing in AngularJS web development services tailored to meet your business-specific needs. Our expertise in AngularJS allows us to build robust, large-scale frameworks for your web applications. We understand the importance of seamless connectivity, and AngularJS, with its comprehensive features and compatibility with other libraries, ensures optimized performance for even the most extensive web applications. Partner with us for innovative and efficient Angular software development solutions.
Your Trusted Angular Development Company in Noida. Specializing in AngularJS web application development, we harness the power of this highly reliable programming environment created by Google. AngularJS offers unique features and provides easy-to-scale architecture for modern applications. Specifically designed to empower single-page applications, it delivers powerful features and extensible functionalities. Elevate your digital presence with our expertise.
Some of the top online website platforms now use AngularJS as their backend development platform to scale their environment to meet the rising demand of handling millions of users every second. Upwork, Netflix, Google, Freelancer, Weather.com, etc all use AngularJS to build highly interactive UI and deliver a seamless user experience with outstanding performance.
AngularJS gives you a chance to expand HTML jargon for your application.
Code Calibre is your trusted web development agency in Noida, Delhi NCR , we understand the complexities of web development. Our approach is exceptionally expressive, lucid,snappy and efficient to create. Unlike other systems that abstract away HTML, CSS, or JavaScript, we provide straightforward solutions for controlling the DOM. Experience seamless and innovative web development with us, where your ideas transform into compelling digital experiences.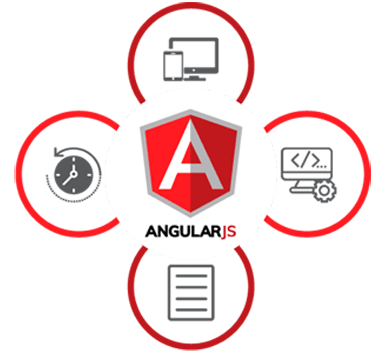 At Code Calibre, we are the go-to AngularJS web app development company, addressing the limitations of traditional HTML. AngularJS serves as a powerful toolset, designed to structure systems according to your application development requirements. It's highly extensible, seamlessly integrating with other libraries. Every component is customizable, ensuring it aligns perfectly with your unique development workflow and feature needs.AngularJS has revolutionized user experiences, offering highly interactive UI/UX solutions. Code Calibre's expertise in AngularJS development is evident through our work on 100+ live platforms, showcasing precision and innovation. Transform your ideas into dynamic, user-friendly web applications with us.
AngularJS provides easy and fast development
Custom widget development

Completely reusable HTML components

It provides a two way data binding feature
MVC based architecture
Provides complete grounds for testing
AngularJS offers customized and agile methodologies
for dynamic solutions
Progressive Web Apps

Native Mobile Apps

Desktop Apps
High Performance and Speed
Command Line Tools
Huge Support Community
Single Page Application Development

Angular JS provides a complete framework for building sophisticated Single Page Applications (SPA). Our Developers can help you leverage the power of Angular JS in building fast, flexible and scalable Angular JS applications with impeccable performance. Our highly experienced Angular JS consultants use their skills to transform complex web architectures into single-page applications for efficient use.
We at Code Calibre offer a variety of services for Angular JS:
Why is Code Calibre the right choice for your Angular JS Development?

Dedicated Angular JS web development

Scalable and Versatile architecture

Cutting edge technological solutions

Cost-Effective solutions with source code authorizations


Secure Development area with proficient monitoring

Highly skilled and experienced team of Angular JS developers


Ease of Hiring with hourly, daily and project basis

24×7 Customer Support