Code Calibre is a renowned Logo Design company, specializing in 3D logo design and crafting the best logos with high quality. We have collaborated with some of the top companies around the world, understanding the importance of a unique logo in your branding process. Your logo is the face of your business, and at Code Calibre, we ensure impeccable quality to help your business make a distinctive mark. In addition to 3D logo design, offering unique and fresh designs that make your brand memorable. In this ever-evolving business landscape, where new brands and products are launched every moment, our expert team guarantees a logo that resonates with your ideas and helps users remember your business and services effectively.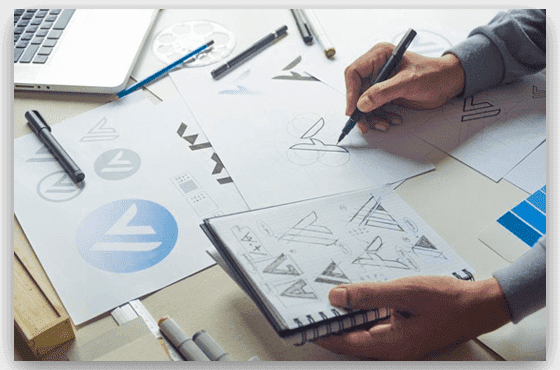 You can measure the talent of our creative design by the Code Caliber logo only.
Our creative experts are adept at crafting innovative logo designs, employing a sophisticated approach in the design process. We initiate by deeply understanding your business and its customer base, with the goal of creating a logo perfectly tailored to your specifications. With our proficiency in online logo design, we seamlessly fuse imagination with visual appeal, producing striking logos that effectively showcase your brand strategies. You can rely on us to translate your ideas into compelling logo designs that mirror your brand values, giving your business a strong and resolute presence.
Our designed logos will perform extraordinarily to draw more clients towards your business and help them remember you with the right vibe, enhancing more opportunities in the market. We design contemporary logos that benefit organizations in numerous ways. These logos create impressions that help individuals identify you as a well-run and relatable brand. To attract attention to brands, businesses, or even advertisements, a combination of graphics, creativity, and skill is essential. All these concepts together create a buzz and help your business achieve its advertising and branding goals.
However, when it comes to selecting a professional Logo Design Company, customers often overlook the trends and demanding designs in the market. Our creative team understands that quality logo creation is not just about high-quality designs or colors. Logos represent creative concepts and enhance awareness of your products and services among clients more effectively. Therefore, the cost we charge you isn't just about getting an image; it encompasses all ideas leading to the creation of the perfect logo that defines your organization.
Why Code Calibre for Logo Design Process?
As one of the proficient Logo Designing companies, Code Calibre has established a reputation for delivering top-notch designs with 100% satisfaction for every project. Here are the reasons to select our organization for Logo Designing.
Trusted by International Company