Code Calibre is a trusted Joomla
Web Development
Company, known for delivering highly optimized solutions. Our developers excel in custom development on Joomla, tailoring solutions perfectly to your business needs. Our Joomla experts provide complex web solutions, ensuring 100% satisfaction. We focus on quick loading website development, offering scalable and flexible architecture. Our expertise has made us the
best affordable Joomla development company in India as well as US
.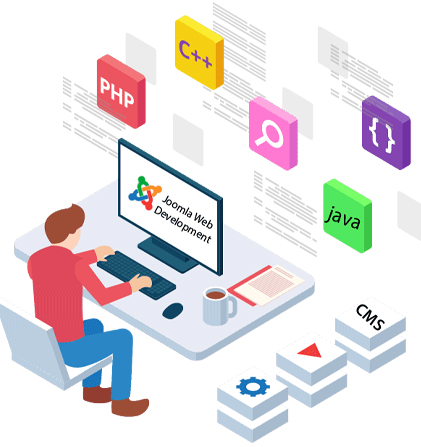 Most well-known features of Joomla are usually integrated into online platforms to gain user attention with a flash generator, Polls/Voting/Surveys, Dynamic forum, plug & play features, etc. Our core company philosophy is to work on the client's project as our own in an effort to build a long term relationship with them. Our Joomla development team plays a significant role in bringing more work for the organization and letting us be known as the best Joomla Website Development Company and Joomla Website Development Agency in Noida, Delhi NCR.
Our team of experienced developers will bring well-organized solutions to boost your sales and bring in a higher ROI (return on investment) right away. We empower organizations with highly effective Joomla Development Service to help them stand out against their competitors. Code Calibre is a professional IT company with extensive Joomla experience, committed to providing long-term business-specific solutions to take your organization to new heights. We have a team of highly skilled and experienced Joomla developers with proficiency in handling complex code structures. Code Calibre works on Joomla Development projects for clients all over the world, making us the go-to Joomla Web Design Agency for businesses seeking superior online solutions.
What benefits you get when you choose Code Calibre for your Joomla CMS needs:

Joomla CMS

Rapid website development with compatible plugins

Joomla Development Company

Fully featured functionality


Joomla Development Agency

SEO friendly

Creative Joomla Design & Development Agency

Ease of integrating 3rd party plugins

Joomla Customization Service

Mobile interactive UI for multi-platform compatibility

Joomla Web Developers

Enhanced Menu navigation dashboards module and admin panels for smooth operations

Joomla Web Development Company

Easy to update and migrate

Joomla Development Services

Security and high-performance tuning

Joomla Web Development & Design Agency

Business-specific Customised solutions
Code Calibre effective services in Joomla:

Code Calibre effective services in Joomla:

Joomla Comprehensive CMS Solutions

Joomla Setup, Installation and Configuration

Joomla Web Design and Development

Joomla template and design integration

Joomla Portal Development

Joomla Web and Mobile App development

Joomla Component Development and Customisation

Joomla bugs and Error fixing

Joomla Website Maintenance and support

Joomla custom modules development

Joomla E-Commerce Development

Joomla Virtue Mart Development
Joomla is a complete web design and development IT architecture to build small to large websites with complex functionality. Joomla can be leveraged to get proficient solutions for Social Networking platforms, Corporate Web Sites, Hotels & Restaurant platforms, Job & recruitment portal, Community and Regional Websites, Government Applications, Online magazines, newspaper and publications, Corporates, intranet and extranet solutions, Non-profit and Organisational sites, Business Directory websites, School and Church online sites.
Why should you choose Code Calibre for your Joomla web development?
We are the best affordable Joomla development company in Noida, with years of experience in providing high quality solutions for a variety of industries and a high rate of customer satisfaction. We cater to your every need and ensure that all your desires are represented in our work.
Reach out to our team today to employ our class leading services for your business.