We envision becoming the major reason for your growth by delivering you sought-after services. At some point, every business needs to rely on an IT company that is an expert in delivering digital marketing services, website development, web design services, etc.
Our highly innovative, creative, and relevant services are all you need to thrive in the online competitive space. Code Calibre not only strives for satisfaction by delivering the best to the clients but also loves to build a loyal relationship with them. No matter what type of project we are working on, we always adhere to our core values and ethics. We are familiar with the fact that it takes years to build trust, credibility, and earn respect.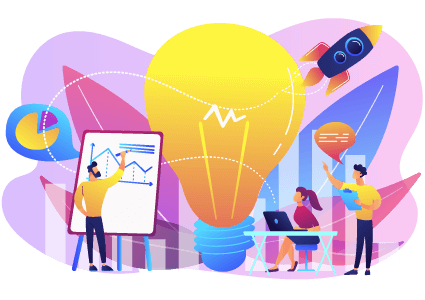 Code Calibre's vision is to:

Be The Best Provider of Excellent IT Solutions.
Follow all the standards and stay in compliance with them.

Use domain expertise and optimise the end-user experience.

Stay up to date with newer technologies.
Achieve new milestones and reach new heights by continuously learning.

Take up challenging tasks and solve them creatively.

Get to work with top global local brands.
Become the part of their growth.
Focus on achieving our goals objectives that we have set for future.
Passion
Have the right attitude for working with enthusiasm and following a learning curve.

Highest Quality
Follow strict guidelines to deliver high-quality results in a stipulated time which helps you thrive.

Reliability
Deliver projects with the optimised potential to match the company expectations or beyond that.

Integrity
Be honest and provide transparency in each business process for offering a professional working environment.
Trust
Make long-term connections with clients to create trust for working with them in the future as well.
Communication
Get effective reviews, feedback and constantly keep the client in the loop during the whole project.

Productivity
Always be prepared for working at the right potential to give highly productive results.

Confidentiality
Respect privacy and also respect individuals' or company's credentials to keep the information safe.