Social Media Optimization
SOCIAL MEDIA OPTIMIZATION
People rarely realize it, but social media has become an integral part of our online social lives today. In the current economy, every business needs a strong social media presence to thrive. As a digital marketing strategy, social media helps your business connect directly with thousands of your customers, and by not engaging in it you stand to lose a lot.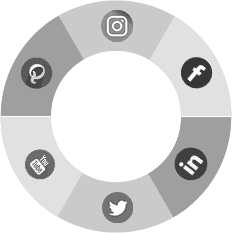 Social Media Optimization:
Social media has become the breakout platform to give businesses a new innovative way to reach their customers. Today, advertising on social media is considered to be the most effective digital marketing strategy and with the growing trend of businesses moving online, no business can survive without it. The right social media page lets you target your core audience; interact with them and make them feel like they are a part of your business. With the ever increasing popularity of online shopping, it is important that your platform remains accessible to the largest possible following and social media can provide a place for customers to shop, leave reviews and share their opinions about your product, which helps others get attracted to your business.
At Code Calibre we stand proud as the top SMO Company Noida helps your business step into the limelight. We help you come up with the most engaging strategies to optimize your social media for your needs. social media optimization experts (SMO) provides the best results when seamlessly paired with good SEO services. All digital marketing services are inherently interdependent, with multiple strategies working in tandem providing the best results. A well implemented strategy bringing together various aspects of your digital marketing campaign can help your business shine. Code Calibre helps you set up the best strategy for your online campaign which will leave a lasting impression on your target audience. Our commitment to your growth and 24×7 support make us the best affordable social media optimization company in India.
Looking for the best SMM Company in Noida that understands your local market and budget constraints? Your search ends here! Code Calibre is the go-to affordable SMM company in Noida dedicated to propelling your business into the limelight. We specialize in creating engaging social media strategies tailored to your specific needs, ensuring optimal results for your online presence.
We help you create an impactful social media strategy based on your business's needs.
Our social media experts specialize in expanding your business's reach online.
Quality content is essential to a successful online marketing strategy. Our team curates the best content to help you connect to your target audience.
Managing an active social media profile is not an easy task. A lot of planning goes into making your voice heard through your preferred platforms. Come to us and we'll help you devise an effective strategy to suit your goals.
We know how to make viral content, and to turn online engagement into real sales.
Search engine results are vital. An impactful SEO plan blended with an effective SMO strategy helps set the stage for your business to prosper.